It started with a Craigslist posting…
1981 Honda GL 500 Silverwing. Engine and body in very good condition. Two extra luggage racks to replace rear seat, a bag of small parts like extra turn signals.
This is a project bike but all maintenance issues as the engine and body are sound (engine idles smoothly on the choke).
Needs carbs rebuilt to run properly.
This bike was donated to a local veteran's group but I don't have time to do the work to make it run. It has probably been sitting for about a year and a half.
Right now it has had fresh gas and cleaner run through it, a new battery, new valve stems on the tires, and been cleaned up a bit.
Bike is sold "as is" but I'm happy to go over it with you and point out what I think needs to be done. Make a reasonable offer and it's yours. Potential to be a great motorcycle as these Silverwings were indestructible. I am available most weekends if you want to look at it.
Now, I had owned a 1981 CX500 Custom Deluxe back in the late 80's and early 90's and I really liked that bike, so it truly was a sad day when I had to trade it in on a Honda mower.  The asking price for this bike was very attractive — I had to take a look.
Mother's day.  The Craigslist posting had only been up for an hour, and the bike just happened to located  on the way to my parents house.  It was destiny!  When I arrived two hours later the bike wouldn't start, it didn't look that great, and yet, it didn't look that bad either.   The top of the tank was rusty under and around a warning sticker, and the inside of the tank was, well, questionable.  The seller seemed honest and I was in a hurry, so I made an offer hoping that, in a worst-case scenario, I could at least recover my investment by selling parts.  He accepted my offer, and so now the bike is mine.  Don't tell Mom!
Since purchasing the bike I've focused on bringing it back to top-notch mechanical condition.  I'm a strong believer in preventative maintenance, and in using the highest quality parts that are available.  Fortunately Honda still supplies many of the parts for this 36 year old bike.
This bike is the non-interstate model meaning that it didn't come with saddlebags and a fairing.  However, as a GL model it did come with the upgraded ignition and the Pro-Link monoshock rear suspension not found on the CX models.  As you can see from the picture below I've added a new National Cycle windscreen and fitted Honda Saddlebags.  I added the windscreen to make the bike more enjoyable to ride at speeds above 60 MPH.
The bike is shown here with the small trunk installed.   I also have a tall trunk off of an interstate model, but it's the wrong color for this bike so I've never used it.  That trunk is large enough for a helmet.  I think the bike looks really nice with the small trunk.
The trunk can be removed and a passenger seat with a backrest and luggage rack installed in its place as shown here, and in the Craigslist picture above.  In this next picture I've strapped a duffel bag to the passenger seat and a tent to the luggage rack.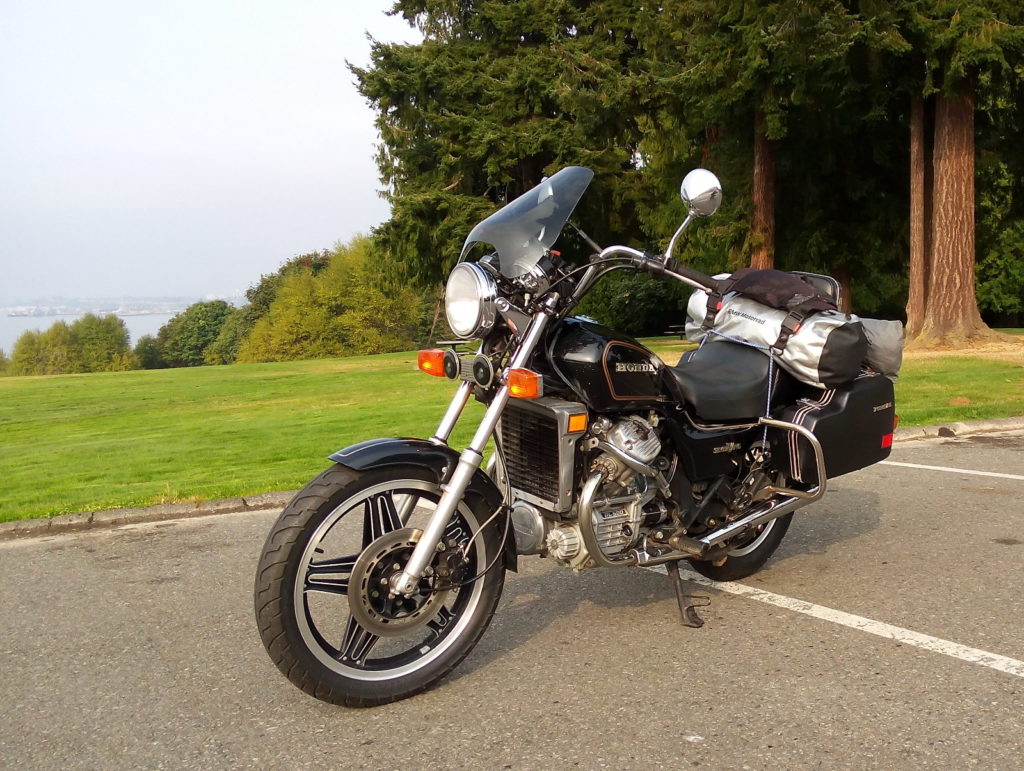 That so many of these bikes are still on the road is a testament to both their reliability and their popularity.   They're comfortable, and perform very well both around town and on the highway.  The bike has enough power to get the job done, but is not so powerful as to be unsuitable for less experienced riders, which is one of the reasons this bike followed me home.  I've used this bike to get back into riding after a long spell without a motorcycle.  Having now owned both a CX and a GL I find I like the GL better, primarily because of the larger tank; this bike will go 200 miles before hitting reserve.  The luggage and trunk systems also work well.  The seating position is upright, which I like, and the 30″ seat height matches my inseam.
Based on all of the information that I was able to get about this bikes history, plus having gone completely through the bike short of ripping into the engine,  I think the bike has had generally very good care when it was being used.  I also think there were two multi-year periods where the bike sat unused.  Under cover or in a garage I can't say, probably both, but certainly not out in the elements.  I do believe the mileage to be correct based on both the documentation available to me, and on the amount of wear I've observed.
One last point about this particular bike.  The bike's color is Cosmo Black.  Most of the GL's you see are in colors that might have been in fashion in the early 80's, but look horrible now.  I think this color is timeless.