Mileage: 27,945
Today's Maintenance:
Torqued Head Bolts (nothing moved)
Adjusted Valves (only minor adjustments required)
Adjusted Timing Chain
Replace valve cover outer gaskets (should replace ones around spark plug well)
Installed reconditioned rubber mounts for instrument center panel
Aimed headlight
The valve adjustments were in pretty good shape.  A couple of the intake valves were a bit tight, but not by much.  I adjusted the intake valves to pass 0.003″ but not 0.004″ and adjusted the exhaust valves to pass 0.004 but not 0.005.  Here's the left cylinder:
Here's a mystery… there's no timing pointer!  See the TL (top-left) mark on the flywheel?  Most drawings show the timing pointer at the center of the hole, so that's where I positioned the timing marks when adjusting the valves and timing chain.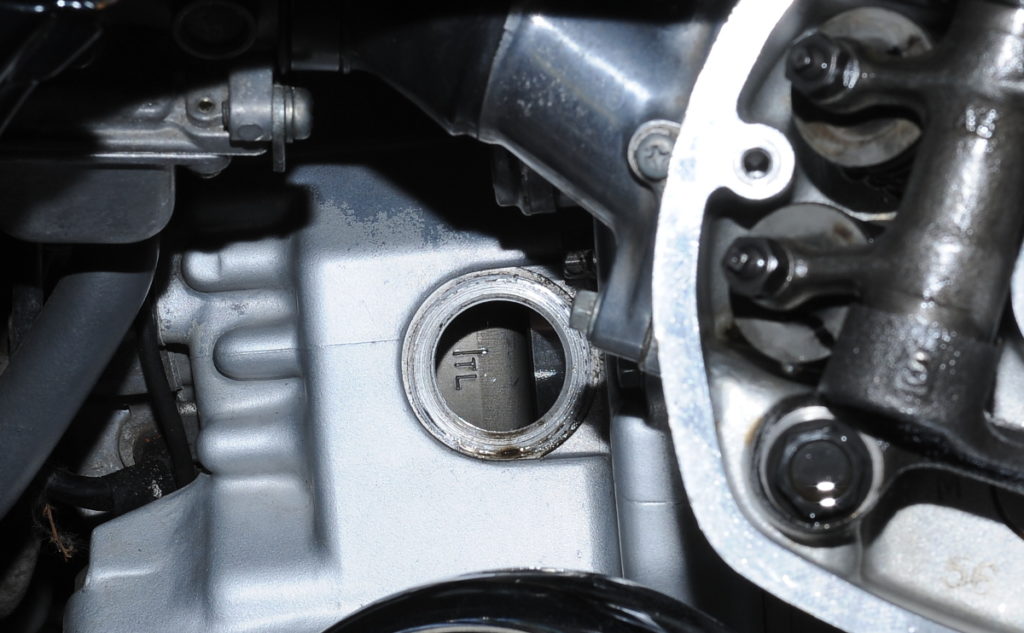 No surprise given the previous pictures, the covers are very clean inside.  The outer gaskets were replaced.  The old ones weren't hard, but they're feeling a bit stiff.  They can probably be reconditions, so I threw them in the used-parts bag.  I should probably replace the inner seals as well.  Perhaps I'll do that when (if) I strip the clear coat off the covers and polish them.